Post by tcc on Jan 5, 2013 3:30:07 GMT
Hi,
I got into the whole nostalgic car scene with the influence of a friend of mine and ever since i saw classic cars in his perspective.. i was h00ked!
These cars really are something! Seriously! full chassis car - strong as all ****, RWD... looks years ahead of its time.. drives incredibly well .. the royalty of that age
The story began one day while i was at school lurking an Australian car forum and came across a thread where a forum member had posted something about an 80 year old man wanting to sell his crown.
So i was thinking ... hm mm ... one owner? Japanese? 40 series crown? Manual?
tick
tick
tick
TICK!
As the front of my shorts began to lift at an alarming rate i quickly got my phone and texted this forum member(i believe silvera23 on here?) straight away
Got the contact details of this old mans number and called him straight away!
A short, struggling conversation with the old man, i organized too meet him the same day... i cut school early and made my way too his
Allan was his name, we started having a chat and got on really well, he started explaining the cars history too me and told me that he wish he could have kept the car but it was getting too uncomfortable for him too drive and any unexpected moves to a retirements homes means that he wont be able to park his crown in his 1 space garage(He also owns a Getz)
(BELOW: I took a sneaky pic of it when i got there)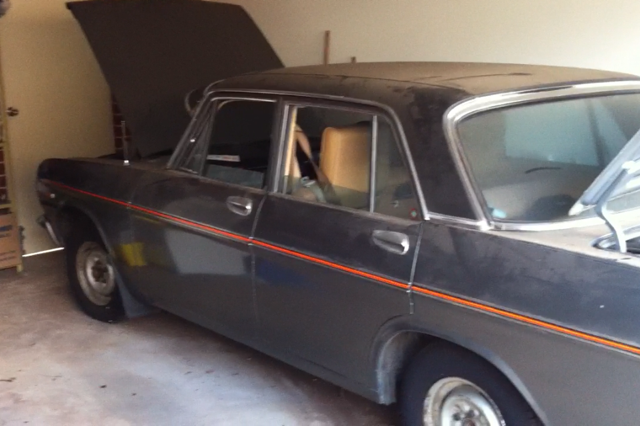 He explained too me that he bought the car brand new in 1968 for roughly $3,000
(BELOW: Pics he took in 68' - after installing a vinyl top)
(BELOW: Ass shot - unfortunantly the rear plating had gotten damaged some years ago so he took it off ;()
The car had been only driven on long trips and has 90,000 miles on the clock, he had a major service done 2 years ago but didn't make much use of it because unfortunately he suffered a stroke - so he stored it in his garage.
(BELOW: The lil thing comin out of the garage after 2 years in solitary confinement)


(BELOW: Other Angle of the escaped prisoner)
(BELOW: little visor he installed - he also has side skirts for the rear that he also gave me)
Look at how good the vinyl roof and paint turned up after all these years!!!
If you noticed he also had some head rests installed on the bench seats, there's a few wear and tear elements too the car but overall its clean! no rust!
(BELOW: inside)
(BELOW: inside - you can see little wear and tear in the seats here)

(BELOW: he sure loved his accessories - i do have the ash tray to fit into that missing puzzle)



Me and Allan have remained in contact and are friends... i am very privileged and honored that he would choose me for his prized possession

Hopefully i can keep it alive for another 40 years too come!


My plans for the car:

Lower (Not fussed at the moment will do some time down the road)
Install a sound system
General tidy up of engine bay, interior, exterior etc...
Paint is already s e x, a good polish is all that needs to be done
Possibly a new set of wider wheels that fill out the guards down the track

The car currently has the original M motor, Straight 6 2L and i am planning to keep it the same till it dies and then will think about some more exotic options

Car is currently registered and road worthy and i still kept the original plates!


I am happy with the car as is and my main concern is just going to be too keep it running nicely and looking tip t o p!